Search Engine Optimization
Ethical SEO Services in India.
Take your business to another level with our SEO Services!
The act of optimizing a web page and/or web site to perform well in the search engines, careful placement, wording, and analysis of keywords of text for optimum search engine ranking.
This can be considered part of an internet marketing strategy. "SEO" is generally a term used to describe specific techniques that can be used on websites in order to rank favorably with search engines. A good example of SEO is the proper use of keywords in specific locations on a web page.
You have a Website, but no business, what you are looking for are professional Search Engine Optimization SEO Services to give your website the place it deserves on major search engines.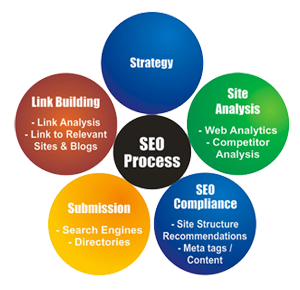 Why SEO Services is important for business?
SEO Services are good for Business visibility and branding.
Enables customers to find your page/business easily.
Provides more credibility to your business.
It Brings Traffic to your website.
Has One of the Best ROI's in Advertising.
Gives You Unmatched Insight Into Your customers using Google Analytics.
The Top 5 Optimizer Method: To Obtain High Search Engine Rankings we optimize the web pages before submitting to search engines. This is done by analyzing the coding of the top 5 ranked websites on google. Each parameter such as keywords, keyword placement, keyword density, title content, description content, meta keywords etc will be compared.
HTML Validations: The web pages are written in HTML, HTML has its own Grammar, Vocabulary & Text. Since Search Engines have to parse the HTML code of the Website to find the relevant Content, hence the Website will have only validated HTML. Most Search Engine Spiders cannot parse images, text on images, flash etc.
Keyword Generation based on content: We will use some Search Engine Tools to generate relevant Keywords from the Content of the website that will be suggested by Search Engines themselves. These keywords will be added to the keywords list.
Keyword Density Analysing: Based on the Selected Keywords the density of the same will be evaluated and accordingly increased on decreased using the The Top 5 Optimizer report.
Link Generation: Emails inviting some similar industry/business category types will be sent out, based on the response recd we will exchange links with those websites to increase our SE rankings.
Search Engine Submission: After the SEO the submission of the Website to Major Search Engines will be done, The Search Engine can take anywhere between 4-8 Months to index a Website.