Business Solutions that really work.
SSL Certificate

CRITICAL UPDATE FROM GOOGLE CHROME

Chrome will show security warnings on your website
To the website owner,
Starting July 2018, Chrome (version 68) will show a "NOT SECURE" warning when users enter a text in a form on an HTTP page, and for all pages in Incognito mode.
The following URLs on your site include text input fields (such as < input type="text" > or < input type="email" >) that will trigger the new Chrome warning.
Get an SSL Certificate & fix this.
Secure your website and customer data
SSL Certificates protect your customer's personal data including passwords, credit cards and identity information. Getting an SSL certificate is the easiest way to increase your customer's confidence in your online business.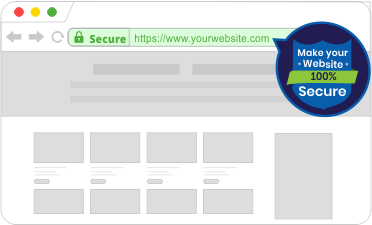 ---
Why buy an SSL certificate
Rock-solid security
Boost customer confidence
Google now provides a slight ranking boost to websites using HTTPS
HTTPS loads websites faster than HTTP
Firefox will also warn users about entering any information
84% would abandon your website, if there was a "Not Secure" notification or message
To Get a Quick Callback SMS: THINK & your message to 56161